JOHAN UPDATE:

Join the clan here. Click "Inca Conspirators" under New Clans
Clan name: Inca Conspirators
Website:
http://incaconspirators.userboard.net/
Clan tag: IC
Tag style: [TAG]
Exclusive: No
Description: Lights not hitting like they used to? EQ's sinking your shaman? Huts randomly dismantling? It's probably Inca's curse, and we can help you see that! We're united in finding and understanding the troubles that exist within Populous and the community. We want to help fix those troubles or shout loud enough until someone else does it for us. After all, we don't want some dubious hack overseeing our precious game! Let's make Populous great again!
Who's in charge: Random Player Voting
How many members: 6 - Me an five others
When it's ready for activation: Wait until midnight
Special follower: THIS IS UNIQUE TO YOU. Read the description on the page to look for it or Ctrl + F for "special follower"
Now, back to Senpei
- - - - - - - - - - - - - -
HEY EVERYONE!

Now that we have the required amount of people to form the clan, we have 1 week to get everyone to sign up to make the clan official!
All you have to do is follow this link:
http://www.popre.net/clans.php?create
Then, fill out the form! its that easy.

As for the description, do not worry about filling it out. Just make sure you answer all the questions correctly.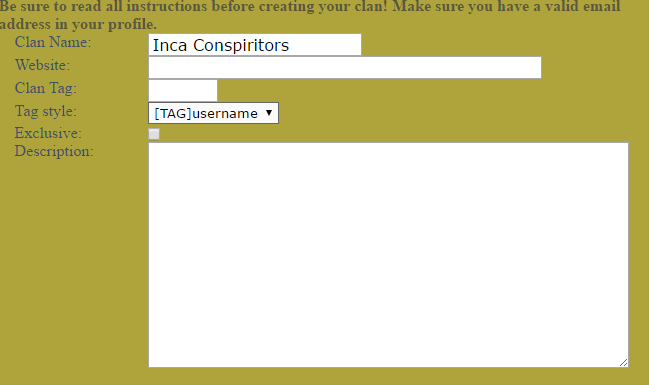 After you are done, reply to this forum so we can take a head count and make it easier to know who hasn't signed up.
If you don't know what to do, don't worry. Reply to this topic with your question and either Johan or I will reply to you.